Wish you could figure out why all the pieces aren't adding up to the success you believe is possible? Let us help you strengthen your formula so you realize the results your organization seeks!
Organizational Effectiveness Guide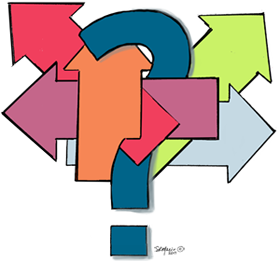 The central question for organizations is "how well do we do what it we intend to?" Despite having good people, good plans, good products  & services many organizations can't seem to attain or sustain the success they know is possible.
By learning about your organization on several levels we can identify what is missing:
Values, Words & Actions,
Structure & Systems,
Leadership
Learn more about our Organizational Effectiveness Guide services here.
Learn how we put these ideas in action; check out our Case Studies here.
---
Training & Leadership Development Maven
We offer essential training resources that are visually vivid, memorable, interactive and engaging. Our content is specially tuned to meet organizational priorities. We have flexible format options, use industry-relevant examples and calibrate for skill level.
To see a sampling of potential topics and customization options, click here.
---
Individual Improvement Catalysts
We use coaching skills, professionally well-honed insights and a unique visual approach to spur focused action. Our purpose is to serve as catalysts so our clients can attain the change they yearn for.
Learn more about how we help clients achieve their best, click here.